Summer is here and I want to share some of my new favorite sun care items! During the summer months my boys and I are constantly in the sun at the beach, pool and lake and I need to keep my skin protected. I am loving the Badger line for them in case you are looking for a great natural line for kids. Below I am highlighting three SPF/sun care items that I am using on the regular over here in sunny Orange County.
I love wearing this SPF when I am going to be in the sun a long time. Especially when going into the water, I feel like I stay very protected. It is a great facial sun protection and lovely on the skin.
Supergoop! Sun-Defying Sunscreen Oil Broad Spectrum SPF 50
This is my new favorite find for the summer! It is a lightweight oil with an SPF of 50 and the best part for me is it is a spray pump. I keep this is my beach bag and reapply it on the go. It is super hydrating without feeling greasy and it leaves my skin glowing. It smells divine as well. I buy mine at Sephora.
Hydra-Repair Toner with Lavender
Lastly, my Hydra-Repair Toner is something I carry in my purse wherever I go! One of the best features of the toner is helping to stop the aging process due to sun and other oxidative stress along with being super hydrating and repairing. I spray this toner during times spent outdoors and also the minute I get out of the sun to calm and hydrate. I use this on my little ones as well. You can stick in the cooler to keep it cold and refreshing.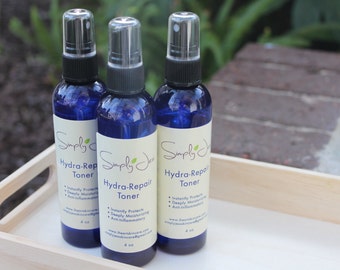 These products help me enjoy my summer without worrying too much about damage from the sun. Also, don't forget the hat! ♥
SaveSave
SaveSave
SaveSave